Sturdy and beautiful wardrobe doors made in a variety of different styles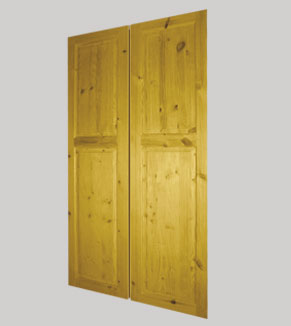 Mister Micawbers Cottage Doors are experts in manufacturing bespoke wardrobe doors. Our Raised and Fielded wardrobe doors are over 1.2m high, alongside 70mm wide and 27mm thick frame.
The thick panel is 27mm, assuring you of a quality product. The doors that are over 1.2m high have a recommended horizontal bar to the doors, which give added stability and create a two panel door as seen in the photograph. Currently the normal thickness is 27mm.
We manufacture wardrobe doors in a variety of styles, including raised and fielded, flat panel, tongue and groove and shaker and victorian style. For a free quote, get in touch with us in Crewe.
What other types of doors do we manufacture?
Apart from our Raised and Fielded cupboard doors, you can also buy the following types of doors that are made from authentic pine sourced from managed forests:
Flat panel
Shaker style
Victorian style
Tongue and groove
Raised and Fielded
We also make shaped under stair doors and window shutters. Or if you need something a bit different we can help all you need to do is ask.
Why choose us?
Mister Micawbers Cottage Doors are experienced wood manufacturers, being a part of this industry for the last three decades.
We source real pine from managed forests and manufacture customised doors for our customers. Wherever you are, we can assist you, serving the UK and Europe, call us and place an order.
We manufacture bespoke real wooden cupboard doors, Victorian style cupboard doors, rustic farmhouse cupboard doors, traditional rural cupboard doors, country pine kitchen cupboard doors, replacement kitchen cupboard doors and many more!
All our cupboard doors are tailor-made individually and can be purchased as sanded, ready to stain or paint, or with an antique pine stain and with wax polish finish! To place an order, get in touch with Mister Micawbers Cottage Doors!