A Wide Range Of Drawer Fronts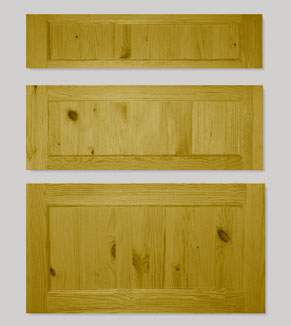 Are you looking for a kitchen upgrade? Order bespoke drawer fronts to match any style of door from Mister Micawbers Cottage Doors.
Whether you need small or large kitchen drawer fronts, we can custom-design them as per your requirements.
These high quality drawer fronts are made from 22mm A grade pine frame with matching pine panel.
Where are we located?
Mister Micawbers Cottage Doors is located in Crewe and you can obtain our services across the United Kingdom, including Scotland, Wales and Northern Ireland. We have customers all over the country.
How much do they cost?
Prices for our drawer fronts start at £25.00 based on the design and the size that you choose. We are however completely flexible. You are free to choose drawer fronts of any dimension that best correspond to the cupboard doors. 
If you are looking to purchase cupboard doors, do not forget to take a look at our collection of exclusive cupboard doors that are manufactured using authentic pine. To find out more, contact our team in Crewe.
All our cupboard doors are supplied in white and ready to finish. The photos of doors shown on the website are however coloured, to be able to highlight details of each individual style.
What other types of doors do we manufacture?
Apart from our Raised and Fielded cupboard doors, you can also buy the following types of doors that are made from authentic pine sourced from managed forests:
Flat panel
Shaker Cupboard Doors
Victorian Cupboard Doors
Tongue and groove
Raised and Fielded
Bespoke Wardrobe Doors
We also make shaped under stair doors and window shutters
Or if you need something a bit different we can help all you need to do is ask.
All our cupboard doors are tailor-made individually and can be purchased as sanded, ready to stain or paint, or with an antique pine stain and with wax polish finish! To place an order, get in touch with Mister Micawbers Cottage Doors!